My public activities related to the world of Tolkien were also reflected in press, either with the reviews to my own researches as with my work representing the Smial of Mithlond (the local branch in Alicante of the Spanish Tolkien Society).
Press
Here are some press/radio/television mentions in recent years. They are classified by type of intervention:

[Interviews (allusions) in press]

Bilbo Baggins, a hobbit who was born
in Puerto de Santa María.
ABC. 03/10/2012
WEB VERSION
PDF VERSION
Tolkien's secret: how the ward of an Andalusian priest invented the fantasy novel. El confidencial. 21/09/12
WEB VERSION
PDF VERSION
A Spaniard in the court of the Lord
of the Rings.
ALBA. 29/10/2010
PDF VERSION
Francis Xavier Morgan Osborne, the
Spanish key of J.R.R. Tolkien.
La Gaceta. 23/01/11
PDF VERSION
[Radio interviews]
It includes interviews unrelated to specific events and inquiries about the works and the personality of J.R.R. Tolkien.
Canal Sur. Hora Sur Mediodía. 5-10-2012

Radio Elche. Hoy por Hoy. 12-7-2011


Radio Nou. La Calaixera. 8-4-2010

Radio Elche. Hoy por Hoy. 17-2-2010

Radio 3. El Postre. 2-9-2008

(Recommended)
Radio 3. Hoy empieza todo. 2-9-2008

Radio Callosa. A poqueta nit. 19-8-2008

Punto Radio (Elche). Área del Vinalopó. 22-12-2006

[Tolkien: Beyond the Screen]
Related to the cycle of lectures "Tolkien: Beyond the Screen" held en Elche, in July of 2008.
Radio Express-Cadena Cope.
8-7-2008
TeleElx.
News bulletin. 8-7-2008
[EstelCon 2004]
Canal 9.
News bulletin. 21-12-2003
[Some older reviews to events]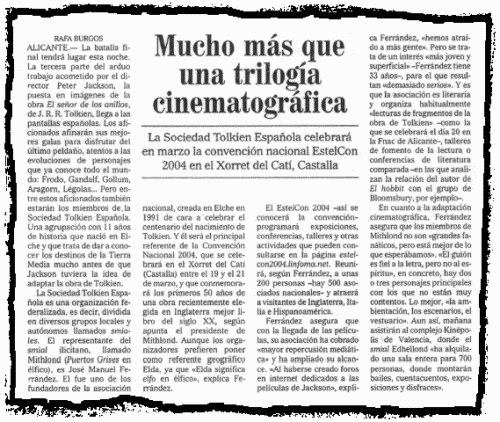 El Mundo
- 17-10-2003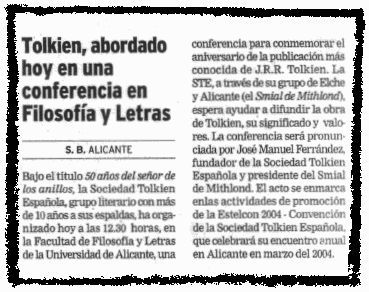 La Verdad
- 15-1-2004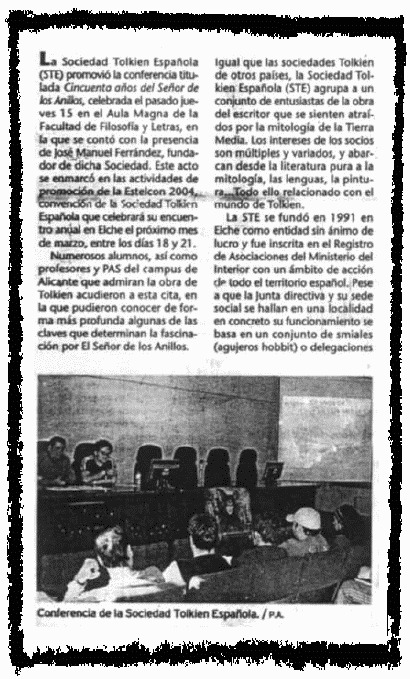 El Vicent
(University of Alicante)- 21-1-2004
[Otros]

Mencioned in
El País -15/05/2007. "The exploited Tolkien successfully make money". Virginia Collera.
(with a mistake in my surname)
Webs
Here are some websites that talk about me:
JerezSiempre

GentedelPuerto

MoralyLuces

Wikipedia